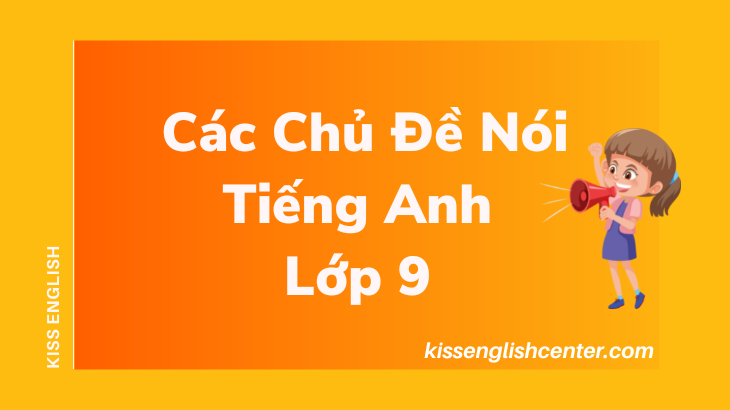 Các Chủ Đề Nói Tiếng Anh Lớp 9 (Mẹo Hay)
Bài viết dưới đây, KISS English sẽ hướng dẫn bạn luyện tập các chủ đề nói tiếng Anh lớp 9 thường gặp. Cùng theo dõi nhé!
Cùng KISS English chơi game tìm nghĩa của từ cực hay. Bấm nút play bên dưới để xem ngay:
Thi nói là phần không thể thiếu trong chương trình tiếng Anh. Để thực hiện phần thi này tốt, hãy chuẩn bị cẩn thận và luyện tập thật nhiều bạn nhé! Bài viết dưới đây, KISS English sẽ hướng dẫn bạn chuẩn bị các chủ đề nói tiếng Anh lớp 9 chi tiết. Hãy theo dõi nhé!
Tips Thi Nói Tiếng Anh Lớp 9 Cực Hay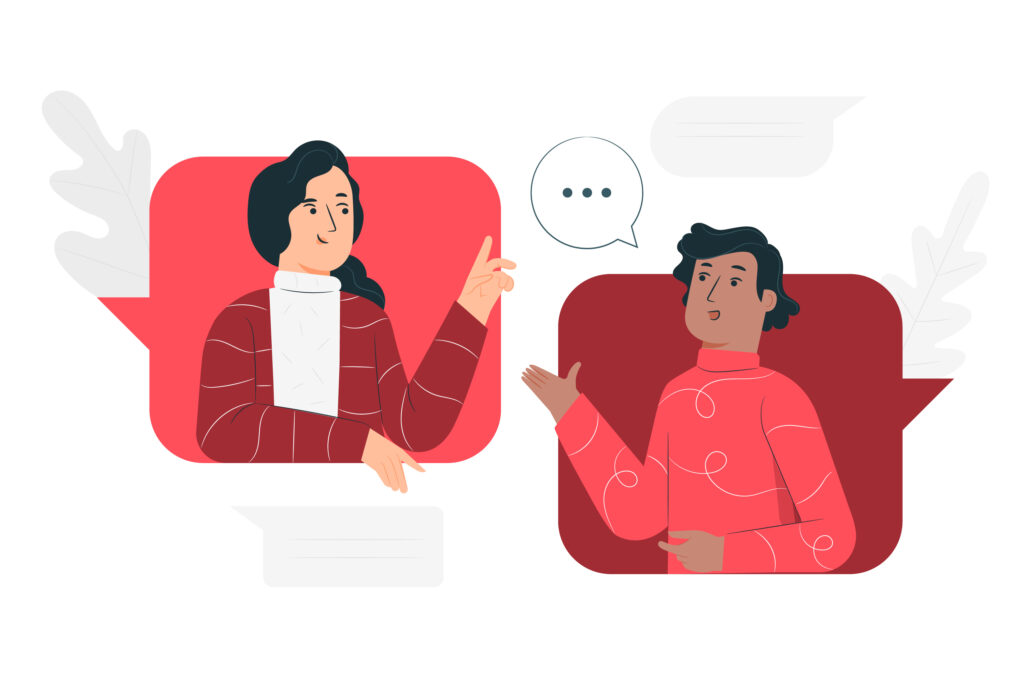 Trước hết, bạn cần nắm được cấu trúc bài thi nói cũng như các yếu tố người chấm thi thường quan tâm.
Khi chấm thi nói, người chấm thi thường quan tâm các yếu tố sau:
Phát âm (phát âm chuẩn từ, đúng trọng âm)
Độ trôi chảy và mạch lạc (nói trôi chảy cả câu, đoạn và câu nói mạch lạc, dễ hiểu)
Đa dạng từ vựng (bạn nên có nguồn từ vựng phong phú để diễn đạt)
Bài thi nói tiếng Anh thường có 2 part:
Part 1: Giới thiệu bản thân
Part 2: Nói về chủ đề đã được giáo viên chuẩn bị trước
Chi tiết:
Trước khi bắt đầu giới thiệu bản thân, bạn và giáo viên sẽ chào hỏi bằng 1 vài câu đơn giản. Ví dụ như:
Hello teacher!
Good morning/Good afternoon, teacher!
Part 1: giới thiệu về bản thân
Bạn có thể tham khảo video KISS English hướng dẫn giới thiệu bản thân bằng tiếng Anh cực chi tiết dưới đây:
Sau khi bạn giới thiệu bản thân, giáo viên sẽ cho bạn biết chủ đề nói của mình là gì hoặc bạn sẽ được bốc thăm chủ đề. Bạn sẽ có khoảng 5-10 phút chuẩn bị cho chủ đề đó.
Mở đầu part 2, bạn có thể giới thiệu chủ đề của mình như sau: My topic is number ……….., talking about………. Now I would like to start my topic.
Tổng Hợp Các Chủ Đề Thi Nói Tiếng Anh Lớp 9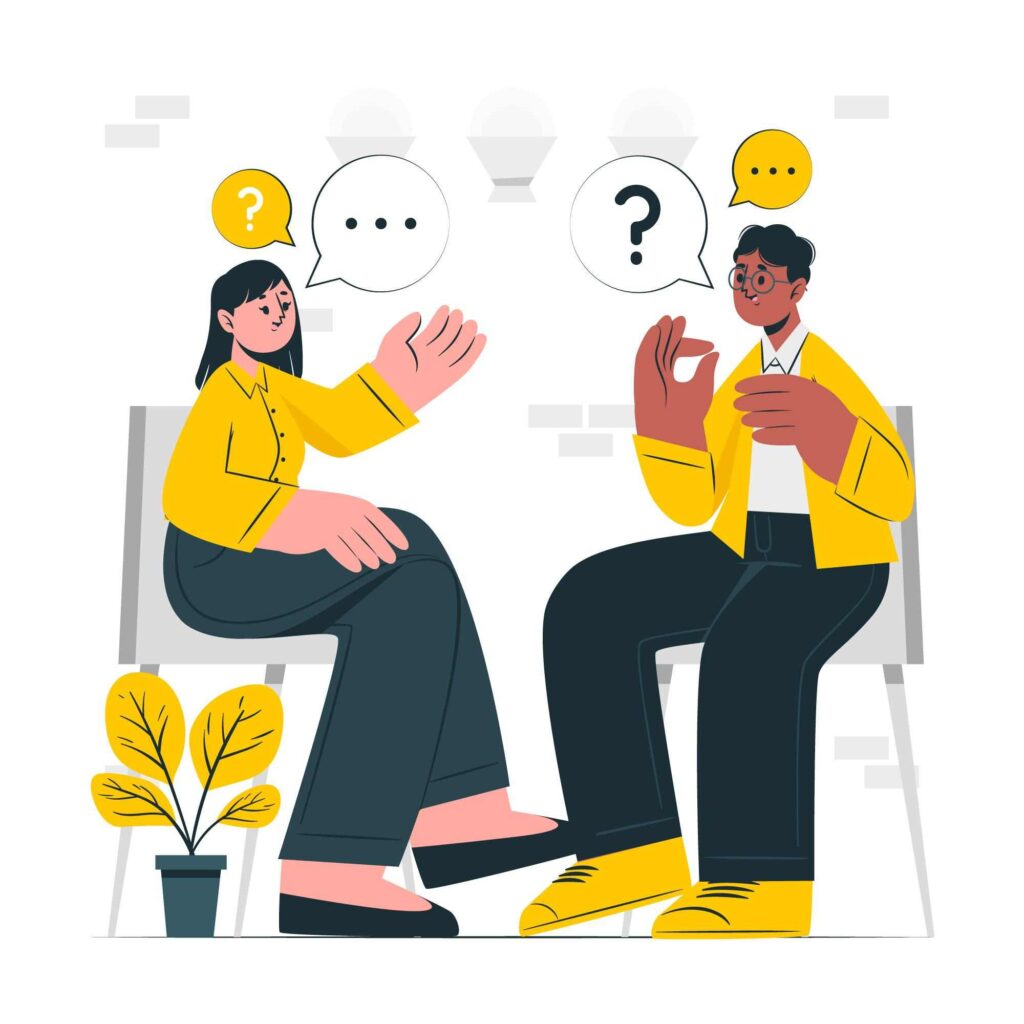 Topic Thi Nói Học Kì 1
Topic
Suggestion
Related questions
Topic 1. Local environmentTell some places of interest you know.
Da Nang is very famous for the Ba Na Hill tourist area on the top of the mountain. The center of this city has many bridges, the most famous of which is the Han River Bridge. This is the first bridge in Vietnam that can be rotated. The bridges are also the pride of the local people. In addition, Danang also has many beautiful caves and beaches. This livable city also has many delicious dishes that visitors must praise and remember.
1. Why do tourists like to buy handicrafts as souvenirs ? ( Because the handicrafts remind them of specific region)

2. Why do people like to go to Bat Trang village? ( Because people can buy things for their house and make pottery themselves there)

3. Do you like to go to VietNam national Museum of History and The Temple of Literature ? Why?
(Yes, I like to go there because I am interested in history, I want to widen my knowledge, it's useful for my studying)
Topic 2: City life
Hanoi is one of the two largest city centers in Vietnam and is a place of exchange for many cultures.
Hanoi weather is characterized by a tropical monsoon. Living in Hanoi you can feel the change of weather in four seasons: spring, summer, autumn and winter. Hanoi is associated with historical relics and heroic oral stories of the nation.
Hanoians are known for their gratitude and respect for the nation's tradition of courtesy. The way of speaking of Hanoi people is usually disciplined and proper, giving listeners a feeling of respect and respect.
Hanoi has a rich culinary scene.The streets of Hanoi are always crowded. Traffic jams are considered a specialty of Hanoi. Hanoi also has poetic moments.
I  love autumn afternoons in Hanoi, next to the lakeside will make me feel fluttery.
1. Tell me about the best city in the world to live in, you know. (Melbourne (Australia), Tokyo, Paris, Osaka)

2. Which city would you like to go to ? Why? (……………..because it has good condition to study, entertainment and find a good job)

3. However, living in a big city has a number of drawbacks. Do you agree or disagree? (I agree with you because there are a lot of drawbacks in a big city , for example pollution, noise, traffic jams, crime …….
Topic 3: Teen stress and pressure
I think teenagers are as stressed as adults because of many reasons related mainly to school, friends and family. In fact, doing well at school involves a lot of pressure, because they have to complete school work, projects and reports and study hard for exams. Then, there is also the stress of having a social life and being accepted by their peers in popular groups in addition to the physical stress which result from some emotional and physical changes which can leave adolescents confused and stressed. Finally, we can also mention the stress that comes from family problems and sibling rivalry. To sum up, we can say that a lot of reasons can lead teenagers to stress, which can provoke violent reactions, depression and health problems.
1. It is necessary to have life skills for teenagers, which skills do you have?

2. Have you ever been stressed? What is your problem?


Topic 4: Wonders of Viet Nam.

Tell some wonders of Viet Nam you studied or you know
Ha Long Bay is an unique natural heritage site in northern Vietnam near the Chinese border. It is about 200 kilometers from Hanoi to Ha Long city, so travelling by car is a popular choice. The thousands of islands with unusual shapes and many caves of this bay cluster to make a lively and mysterious world. There are many famous places in HaLong Bay such as Thien Cung Cave, Me Cung Cave, Tuan Chau Island, … Moreover, you also have chances to take part in interesting activities. You can take Halong kayaking, visit the fishing villages or take an overnight Halong cruise. To sum up, Ha Long Bay is the best choice to relax after hard-working days.
Topic Thi Nói Học Kì 2
Topic
Suggestion
Related questions
Topic 1: Your favorite TV programs.
Tham khảo chi tiết tại:
http://kissenglishcenter.com/bai-viet-tieng-anh-ve-chuong-trinh-tv/
– Which channel is it on?

– When is it on?

– Who is the host of this TV show?

– What is it about?

– Why do you like it?
Topic 2: Your favorite sports.
My favorite sport is basketball. After every class, my friends and I always go to the school basketball court to split into two competing teams. For this sport, you need to practice regularly to have a supple body and good reflexes. Besides, you also need to coordinate accurately with other players on the team in a really good way. You and your team have to skillfully put the ball in the basket to score points. basketball because it both helps me increase my height and helps me to exercise health and solve problems. mind. In addition to the above benefits, basketball also gives me very close friends. I love basketball.
– Which sport do you like best? Why?

– How often do you play sports?

– Who do you often play sports with?

– Where and when do you often play sports?
Topic 3: A city you like most
I would like to tell you about Tokyo, the city I want to live in the most in the future. It is the capital city of Japan and is the most populous metropolitan area in the world. The most important reason I wish to settle down in Tokyo is the coexistence of modern and traditional values. It's the kind of city where the red gates of a centuries-old Shinto shrine may well be found just next door to a glass skyscraper showcasing the finest 21st century technology. Or where a quiet green lane lined with wooden low-rise houses and an old school tofu shop might sit just a short stroll from a neon-lit square packed with flickering billboards and rainbow-bright street fashion.
– Which city would you like to visit most? Where is it located?

– What are some tourist attractions?

– What is the weather like in this city? How are people here?
Topic 4: Your dream house
In the future, I will live in a hi-tech house. It might be by the sea and it will be surrounded by the blue sea. There are twenty rooms in my house. My house will have a big garage so that I can store my super cars. My future house will have wind and solar energy. I will use hi-tech and automatic machines such as a smart clock, modern fridge, and so on. There is a super smart TV in my house. I might surf the internet, watch my favorite TV programme from space or contact friends on other planets on this TV. I might also join online classes on TV and not have to go to school.
– Type of house it is.

– Where is your dream house located?

– What does it look like?

What is it surrounded by?

– What appliances does it have?
Topic 6: Living in the city/ countryside
Both city life and country life have advantages as well as disadvantages.
In the city, the houses are supplied with electricity and drinking-water. It is very convenient for city people to go from place to place by bus, by taxi or by motorbike. They can buy everything they need in supermarkets and department stores everywhere. For entertainment, they can go to theatres and amusement centers. However, they have to suffer from the pollution of air and noise, which is very harmfỉl to their health.
Many people prefer to live in the country because they can enjoy fresh air, peaceful atmosphere and beautiful landscape there. However, life in the country is not comfortable and easy. Country people lack such comforts and conveniences as electricity, drinking water, good means of transportation and amusement places.I think city life is suitable for young people. Elderly people should enjoy their life in the countryside.
1. Talk about the advantages of living in the countryside.

2. Talk about the disadvantages of living in the countryside.

3. What do you think the most serious problem in the big cities.

4. Tell me about three famous cities around the world. Where are they?

5. What should you do to solve that problem?

6. What city in the world would you like to visit most? Why?
Lời Kết
Như vậy chúng ta đã hoàn thành việc tìm hiểu các chủ đề thi nói tiếng Anh lớp 9. Hãy luyện nói và chuẩn bị thật kỹ để có bài thi nói tốt bạn nhé! Chúc bạn học tốt!