Cách Làm Bánh Bao Bằng Tiếng Anh 2022
Trong bài viết này, KISS English sẽ cùng các bạn tìm hiểu cách làm bánh bao bằng tiếng Anh. Hãy theo dõi nhé.
Xem cách học từ vựng siêu tốc và nhớ lâu tại đây nhé: 
Video hướng dẫn cách học từ vựng siêu tốc | Ms Thuỷ KISS English
Bánh bao là một món ăn được rất nhiều người yêu chuộng. Đặc biệt là người nước ngoài cũng đặc biệt thích món này. Vậy làm thế nào để giới thiệu cách làm bánh bao bằng tiếng Anh? Trong bài viết này, KISS English sẽ cùng các bạn tìm hiểu nhé. 
Cách Làm Bánh Bao Bằng Tiếng Anh (Bánh Bao Xá Xíu)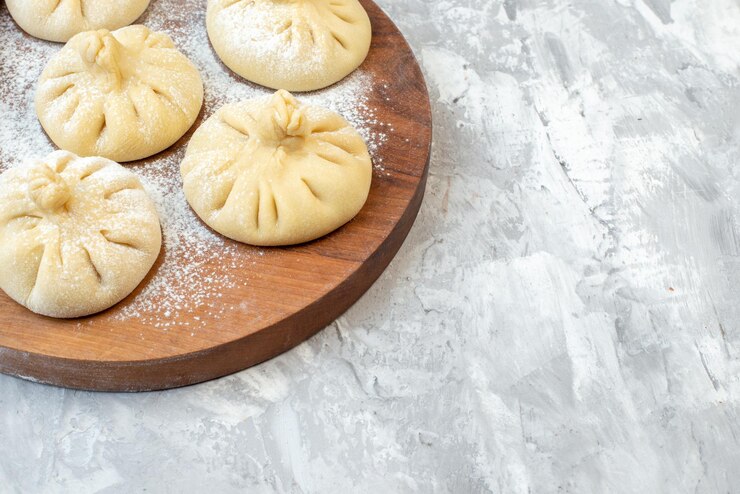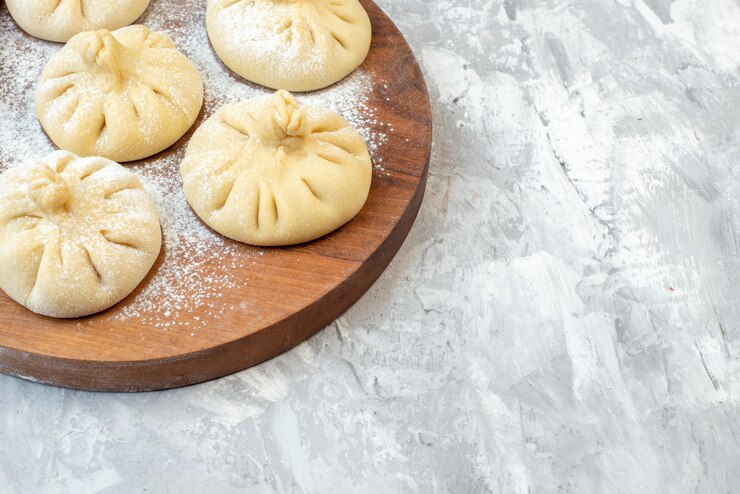 Ingredients – nguyên Liệu
1 package active dry yeast
1/2 warm water
1 1/2 cups all-purpose flour, plus more for kneading
1 1/2 cups cake flour
3 tablespoons sugar
1/2 teaspoon baking powder
1/2 cup warm milk
1 tablespoon canola oil, plus more as needed
1 (1/2 to 1-pound) rack spareribs
3/4 cup hoisin sauce
1 cup shredded cabbage
1 bunch scallions, thinly sliced
Make the filling – chế biến nhân
– Put the rack of spareribs into a large resealable plastic bag. Pour in the hoisin sauce, close the bag and toss gently to coat. Put the bag into a bowl and marinate the ribs in the refrigerator for 3 hours or up to overnight.
– Preheat the oven to 300 degrees F.
– Put the ribs into a sheet pan along with all the marinade. Cover the pan with aluminum foil, slide it into the oven and bake until the meat easily separates from the bone, about 2 hours. Baste them every 30 minutes during the cooking process. Remove the ribs from the oven and let them rest.
– When cool enough to handle, pull the rib meat from the bones and coarsely chop. Then, in a large bowl, toss the pork together with the cabbage and scallions. If the mixture seems too dry, add in a bit more hoisin sauce.
Make the dough – chế biến bột
– Sprinkle the yeast over the warm water in a small bowl. After a few minutes, the yeast will begin to foam and bubble.
– In a large bowl, whisk together the flour, sugar, and baking powder. Make a well in the center of the dry ingredients and add the warm milk, canola oil, and the activated yeast. Work the dough to produce a shaggy mass.
– Turn it out onto a floured board or countertop and knead until the dough becomes smooth, soft, and pliable, about 5 to 10 minutes. Put it into a lightly oiled bowl and turn it over once to coat. Cover the bowl in plastic wrap and allow the dough to rise undisturbed for 40 minutes to 1 hour. The mass should double in volume.
Assembly and steam – tạo hình và hấp
To form the buns, remove the dough from the bowl and roll it into 1 long rope. Cut the rope into 12 equal portions. Roll each piece and set them aside in a bowl.
Using a rolling pin, flatten each ball into 4-inch circles, leaving the center slightly thicker then its edges.
Put a heaping tablespoon of the filling into the center of each disk and pinch the tops closed to seal.
Arrange the buns on a parchment-lined sheet tray and cover them with a clean kitchen towel.
Alternatively, place the buns into a large 3-level bamboo steamer lined with parchment paper, 4 buns per level. Allow the buns to rest for 10 minutes.
In the meantime, fill a bamboo or stainless steel steamer with water and bring it to a boil.
Cut 12 (4-inch) rounds from some parchment paper. When ready to cook, place the buns on the parchment rounds and into the steamer.
Cách Làm Bánh Bao Bằng Tiếng Anh (Bánh Bao Thập Cẩm)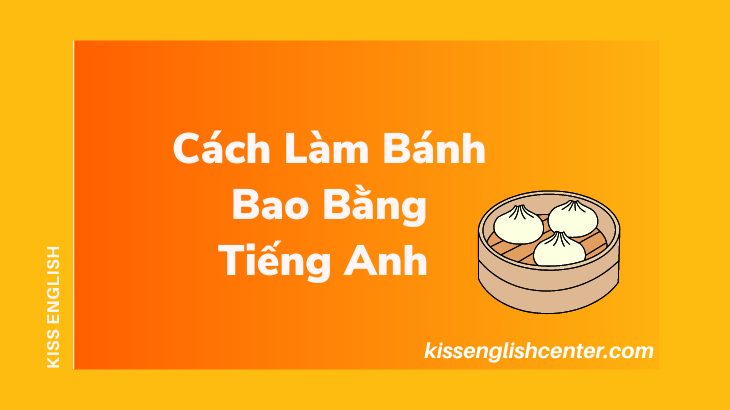 Ingredients – nguyên Liệu
3 cups all-purpose flour
1 tsp active dry yeast
2 tsp cornstarch
1/2 tsp salt
2 1/2 tsp baking powder
1/2 cups sugar
1 cup milk
1 tsp vegetable oil
3-4 drops lime juice
1/2 lbs ground pork (or any kind of meat)
1.45 oz mung bean noodle
1/2 yellow onion (peeled)
2-3 egg (or 9 quail eggs) (hard-boiled and peeled)
1 tsp mushroom seasoning (optional)
1/4 tsp ground black pepper
1/2 tsp sugar
1/2 tsp sesame oil
2 tsp oyster sauce
1/4 tsp salt
2 Chinese sausage
3 big dried black fungus
Make the dough – chế biến bột
Warm milk in microwave for 30 seconds. Add 2 tsp sugar. Stir until dissolved. Then add active dry yeast. Stir gently. Cover and let it rest for 10 minutes or until foam. (The milk should be warm enough to the touch; so that it will not kill the yeast.)
In a mixing bowl, add all-purpose flour, cornstarch, baking powder, salt, remaining sugar, vegetable oil and lime juice. Pour in the yeast. Mix well until smooth. Cover the dough with plastic wrap or a damp kitchen towel. Place in a warm place for 2 hours or until the dough about double in size.
Make the filling – chế biến nhân
1, Soak dried fungus in hot water and the noodle in warm water for 10 minutes. Rinse and drain well.
2, Cut hard-boil eggs into 4 pieces. Slice Chinese sausages thinly on a diagonal. Dice yellow onion well. Cut noodles into 1 inch. Mince the fungus.
3, In a bowl, add ground pork, mushroom seasoning (optional), ground pepper, sugar, sesame oil, oyster sauce, salt, onion, fungus, and noodle. Mix until combined. Set aside.
Stuffing and steam – nhồi nhân và đem đi hấp
1, After 2 hours, lightly flour on a work surface. Place the dough on and divide it into 9 parts equally. Then roll into small balls. Cover and let the balls rest for 10 minutes.
2, Once again, lightly flour on the work surface. Place 1 dough ball on and flatten by using a rolling pin. (Flatten the edge so it's thinner than the middle.)
3, Place about 1 tablespoon of filling in the center of the dough. Place 3 Chinese sausage slices around the filling. Top with 1 piece of egg.
4, Pull the edge of dough over the filling and fold it into layers. Then twist the top to secure the bun. Pat around the bun to make shape. Place the bun on a piece of paper. Continue to do so until you finish all the dough balls and fillings.
5, Bring water in a steamer to a boil on medium heat. Add vinegar. (This will make the buns whiter in color.)
6, Place the buns into the steamer. (Remember to leave space so that they will have room to rise.)
7, Cover the top and steam for 20 minutes. (The top should be wrapped with a kitchen towel so that the water doesn't drip into the buns.)
8, After 20 minutes, remove the top and place the buns on a dish. Now it is ready to serve.
Tham khảo thêm bài viết: http://kissenglishcenter.com/bun-dau-mam-tom-tieng-anh/
Lời Kết
Trên đây là những thông tin về cách làm bánh bao bằng tiếng Anh mà KISS English muốn đem đến cho bạn. Hy vọng bài viết này phù hợp và bổ ích với bạn. Chúc bạn có một buổi học vui vẻ và hiệu quả.
Đọc thêm:
https://cafebiz.vn/kham-pha-phuong-phap-hoc-tieng-anh-thong-minh-40-cung-kiss-english-176221015111800713.chn